Wedding Ceremony Music from Save the Date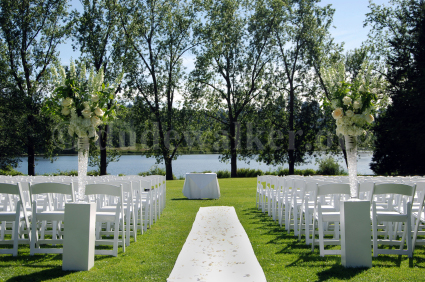 Planning your wedding is such a fun, exciting time in your life. As you begin working through the minute details it can start to feel a little stressful though. There are so many options to consider for everything. One of the most important aspects of your special day will be the ceremony music. The music that you choose will set the mood for your entire wedding ceremony. As guests enter, the prelude will be playing. It should be something light and happy that will keep guests entertained as they wait for the wedding to start. Next comes the processional. This is the music that the wedding party will enter to. You may want a different piece to highlight the bride's entrance as well. Many couples also choose to incorporate music during the ceremony such as a solo or accompaniment for a specific event such as the lighting of the unity candle. Finally, the wedding party leaves to the recessional music which can be followed by an extended postlude that plays while guests exit. That sounds like a lot of music but once you start making selections you'll see it start to really come together.
Before you start choosing your songs, you need to decide what type of musicians you'd like to have at your wedding. There are several factors that will influence this decision: cost, availability, and of course your venue. Many churches have rules regarding the type of musicians and the musical selections that may be played during a Raleigh wedding ceremony. Be sure to check on any such restrictions before you begin interviewing musicians. Check with your venue to see if they already have an instrument available such as a piano or organ. Often it will save you money if the musician doesn't have to bring his or her own instrument with them. Next pay close attention to the size of your venue and your wedding party. Make sure that there is ample room for everyone before booking musicians. The last thing you want is to feel crowded on your big day.
Once you've narrowed your choices based on these criteria you can start really thinking about what you'd like to have. There are so many options: organist/pianist, strings, brass, acoustic guitar, harp, duets, trios or quartets. If you have chosen to have a soloist sing during your wedding ceremony consider what type of accompaniment they will need for the song you select. You don't want to overpower your singer. Talk to people who have attended weddings recently, and ask them of their thoughts on which type of musician fits best with the ambiance that you are trying to achieve. However, for the best advice, call or email Mary. With her experience and expertise, she can recommend many great choices for you.
Lastly, don't forget to watch your budget. You don't want to break the bank by hiring more musicians than you can really afford. Ask Kitty about a wide range of budget friendly musical options. She wants you to be overjoyed and under budget with your Save The Date music. Keep in mind the music along with the decorations will set the tone of your wedding long before the wedding party enters. You want to be sure that the style of music you choose fits the overall impression you want your day to have. Your wedding should be a reflection of you and your love and your Raleigh wedding ceremony music should make you happy when you hear it.
We offer the best wedding Djs and live ceremony music in the Raleigh-Durham area! We're experienced. We make you our priority. We take your event as seriously as you do. And we just do it better. Live music, Djs, strings, vocalists, and more. Who said Raleigh wedding ceremony music couldn't be affordable and easy? Contact Kitty for more information.